Endermologie Celulite Reduction
LPG Endermologie is a process THE INNER HEALTH AND WELLNESS CENTER uses to reduce cellulite, or to achieve complete cellulite removal. In addition to being an effective cellulite treatment, it provides body sculpting to other problem areas, and may also help relieve fibromyalgia pain.
Cellulite reduction
Loss inches
Expels toxins
Possible weight loss
Reduces "love handles"
Accelerates metabolism
Increases blood and lymph flow
Stimulates collagen production
Increases skin elasticity
Relieves muscle pains and spasm
Aids pre and post liposuction
Quite simply, LPG Endermologie is the science of cellular stimulation.
LPG Endermologie takes a non-invasive approach to stimulating your blood supply and it's circulation, using a technique that has been proven safe and effective, to help in cellulite reduction.
To accomplish this cellulite treatment, our trained and certified technicians at THE INNER HEALTH AND WELLNESS use LPG's top-of-the-line, state-of-the-art device...Cellu M6. This device applies an accurate, computer-controlled rolling and suction action that feels like a deep-tissue massage, that helps to revitalize the skin, and stretch underlying fibers...all for the end result of cellulite reduction.
However, the LPG Endermologie experience is more than just a cellulite treatment. There are a multitude of benefits that will aid in your overall body sculpting...such as giving your curves more contour, and reshaping your body's problem areas.
Some additional benefits include: reduction of love handles, loss of inches, collagen production stimulation, expelling of toxins, metabolism acceleration, and may even alleviate fibromyalgia pain.
When you come to THE INNER HEALTH AND WELLNESS CENTER, we promise...no painful lipo surgery, no messy creams to apply. There are no adverse side effects or post-treatment downtime. You merely get up, get a refreshing drink, walk out, and go about your day feeling relaxed and energized.
THE INNER HEALTH AND WELLNESS CENTER serves a vast area that encompasses the cities of: Tarzana, San Fernando Valley, Agoura, Calabasas, Woodland Hills, Canoga Park, Encino, Reseda, Van Nuys, Northridge, Sherman Oaks, Studio City, Westlake Village, West Hills, and Chatsworth. Also the cities on the Westside like Santa Monica, Beverley hills, Brentwood, Bel Aire, Hollywood Hills, and West Los Angeles.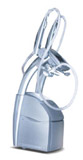 How does it work?
Here at the Inner Health and Wellness Center we use LPG's top of the line, state of the art Cellu M6. Operated by trained and certified technicians the device applies accurate, computer controlled suction and rolling action, creating a wavelike "fold" of skin in the treated area. This significantly increases the blood supply and circulation to the areas of cellulite. It is also stretching the underlying fibers, ultimately reducing the cellulite appearance.

What is cellulite?
Cellulite is deposits of fat and other material trapped in pockets of connective tissue beneath the skin. It causes progressive dimpling, also called "orange peel" or "cottage cheese" appearance of the skin. About 90 % of women are affected by it, after they reach puberty.

What is the procedure?
The session is painless, comfortable, and sometimes invigorating. 10 to 20 treatments (as needed per individual), lasting approximately 35 minutes each, best given twice a week. Our Endermologie technician will individualize your treatment by focusing on cellulite-ridden areas.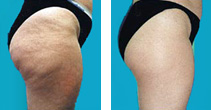 What results can I expect?
One of the first things you will notice is that your clothes fit looser, your legs and hips feel lighter, and you will experience a sense of well-being. You will next notice improvement in skin condition, changes in contour, and possibly weight loss.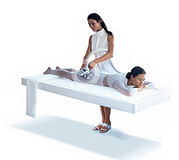 How many sessions do I need ?
Results vary for every person, however an average person starts to notice the changes after about 6-8 sessions. We recommend 10 to 20 treatments (as needed per individual), lasting approximately 35 minutes each, best given twice a week.

Is the treatment comfortable?
It is relaxing and pleasant massage-like treatment, that will be individually adjusted to your comfort level.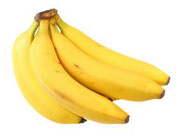 Do diet/exercise get rid of cellulite?
NO! Diet and exercise affect the deep fat layers, while the cause of cellulite is within the subcutaneous layer. Even women who exercise regularly and follow low fat diets may still have cellulite.

Are men candidates for treatments?
Yes! Treatments will help eliminate those "love handles" and other "loose" areas, while improving muscle definition, increasing circulation, and eliminating toxins.